Book Proposal Course
How To Write And Sell Your Non-Fiction Book Proposal
Do You Wish You Had:
Expert guidance from a NY Times Bestselling Author and Coach on how to write an Agent-Ready Book Proposal?
Clarity on exactly what to write and how to make your book stand out in the marketplace?
The inside scoop on how the publishing industry works and how you can be a part of it?
A plan for getting an agent and a book deal?
The confidence to believe you have something important to say and that you really do have eager fans out there just waiting for you to say it?
Using my Book Proposal in a Week System, my clients have finished their book proposals at lightning speed - 7 days y'all! - gotten top-level agents, landed book deals with major publishers and have wound up in places such as The NY Times Bestseller List, The Today Show and deep in the hearts of countless grateful fans.
I wrote the book proposal for You Are a Badass® using my Book Proposal in a Week System and it's now a #1 New York Times bestseller!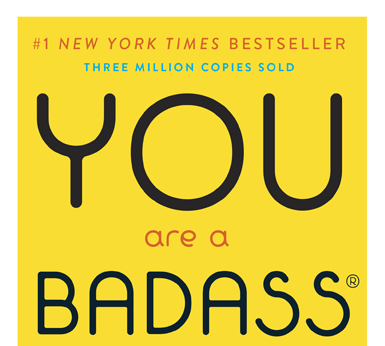 Don't wait until someone else writes your book before you do!
If you want:
Bestselling Author Status
Higher Paying Clients
Expert Credibility
The Ability to Reach, and Help, Countless People All Over the World
The Massive Sense of Accomplishment From Writing and Publishing Your Book...
You need to get off your butt and write your damn book!
And here's the beautiful thing:
It doesn't need to take that long. AND you can get paid to write it!
In the nonfiction world, you need to write what's called a Book Proposal, not the entire book, in order to get an agent and a publishing deal. Once you sell your book proposal, you go off and write the actual book.
How The Program Works
Sign up for my How to Write and Sell Your Nonfiction Book Proposal DIY Course and learn to write an Agent-Ready nonfiction book proposal in one week. Here's what you get:
My Proven Book Proposal in a Week System
My system breaks the book proposal writing process down into clear, manageable, bite-sized chunks. I am someone who likes to work quickly and efficiently, so I've designed my system to give you all the information you need to get the job done without overwhelming you with a bunch of crap that will slow you down and put you off from writing your book for another few years! My Book Proposal in a Week System includes:
7 Work Packets
Each one walks you through a different section of a nonfiction book proposal by providing:
A clear, concise road map of exactly what you need to write and how to write it
Easy to follow exercises
Powerful tips on everything from writing to discipline to building a strong platform
Samples from successful book proposals to model yours after
Suggested practices for getting the job done
2 Bonus Work Packets
1) Starter Packet: This packet gives you a bird's eye view of a Nonfiction Book Proposal, breaking down the work you're about to do so you can map it out easily in your head before you start. It also provides exercises to get you clear on your brand, your voice, your book content and helps you whittle down exactly who is in your almighty target market.
2) You Are a Badass® Book Proposal: This packet includes the book proposal for my NY Times Bestselling Book, You Are a Badass®: How to Stop Doubting Your Greatness and Start Living an Awesome Life for you to use as a sample.
Over 20 Hours of Live Coaching Recordings
You will listen in on the coaching calls from a group who took the course with me live and who went through the exact process you're going through in the DIY Course. The calls go in-depth into the information covered in the corresponding daily Work Packet, walking you step-by-step through how to write each piece of a Nonfiction Book Proposal. The calls also provide motivation to build your confidence, insights on how to manage your time, stay accountable, push yourself through challenges, write the best proposal possible, sell yourself to agents and publishers and remember that you are a total Badass who was born to write this book.
3 BONUS Call Recordings
1) Agent Call: You will receive a recorded interview and Q&A I did with my agent all about how to get an agent, what they're looking for, what you should look for, what they do, how they can best help you get published and sell yourself, etc.
2) Time Management Call: On this call I share with you my best Time Management tips. I help you adopt the abundance mindset, habits and systems you need to not only create the time you need to finish your proposal (instead of waiting to "find the time") but so you can finish it quickly.
3) Focus and Discipline Call: On this recording I help you adopt the mindset, motivation and practices that lead to unflinching focus and discipline - two things that I consider equally (if not more?) important than talent when it comes to writing.
Testimonials
2 out of the 3 agents want to see my proposal!
Just a quick note to share with you that yesterday's pitching to agents was a success!

2 out of the 3 agents want to see my proposal! I still can't believe it and owe everything to the Bootcamp! Thank-you Jen and everyone else too!
— Chrissy Atley, TotalHarmonyCoaching.com
[My book] topped at #18 on the NY Times Bestseller List
My book is still selling strong — it topped at #18 on the NY Times Bestseller List right after my Today Show appearance. We've got about 50,000 copies in print and we're working on the paperback release as well as book #2.

Jen Sincero is an excellent book coach. Her book proposal telecourse helped me craft a proposal that had agents lined up to work with me. The book sold in only four days for a generous advance. Today I'm a New York Times best selling author and my business is booming.
— Cami Walker, NY Times Bestselling Author of
29 Gifts: How a Month of Giving Can Change Your Life
I have just finished my first nonfiction book proposal—in only ONE WEEK!
I have just finished my first nonfiction book proposal—in only ONE WEEK!

I found a bad ass bootcamp led by the big bad ass herself, Jen Sincero.

I've worked with mentors and writing coaches in the past, but this was my first foray into a group coaching experience with a deadline that seriously had me living outside my comfort zone.

Well, by day three I knew I'd never settle for anything less from myself or a coaching experience again.BADASSES!!!!
— Janet Wallace of thesocialdeviants.com
Jen Sincero is our ROCKER-teacher-sister-friend!
I'm in the meat of the first sample chapter and it feels awesome. NO DOUBT(s), FLOWWWWWING. will finish it tonight.

Market analysis also done. bio done, promo done (well rough drafts), outline done, overview done (well, ok, also rough drafts) but feeling solid about most of it…bootcamp ROCKED it. Thank YOU. Jen Sincero is our ROCKER-teacher-sister-friend!
— Michelle Ghilotti Mandel, author of the forthcoming book How to Be a Walking Momtra
Take this class if you want expert guidance to help you produce the book proposal of your dreams
When I started the Book Proposal Bootcamp, I had an idea for a book, a list of possible book stories but that was about it.

Jen seemed to do the impossible by helping me transform that tiny germ of a book idea into a working book proposal in just 7 days.

Take this class if you want expert guidance to help you produce the book proposal of your dreams. It's worth every penny and more.
— Wendy Suzuki, PhD author of
Healthy Brain, Happy Life: A Personal Program to Activate Your Brain & Do Everything Better
Don't waste your one precious life settling for what you can get. Decide to go after your dreams like your life depends on it.

I'll be waiting for you in Badassville!
Jen Sincero
NY Times Bestselling Author, World-Traveling Success Coach, Motivational Cattle Prod.

We think our product kicks butt and are happy to give you a full refund should you feel otherwise! All requests for refunds must be made by contacting us WITHIN THE FIRST 14 DAYS after you have purchased the program. I repeat, all refund requests will be honored within the first 14 days of purchasing ONLY.
By registering for Jen Sincero of Good Witch LLC's How to Write and Sell Your Non-Fiction Book Proposal Course, you agree to our Terms and Conditions.